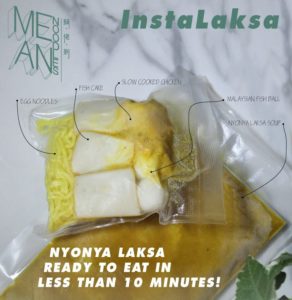 InstaLaksa
Tired of preparing and cooking lunch or dinner?
InstaLaksa by chef Kevin Lim provides you with the perfect solution.
✅Make a delicious bowl of Laksa in less than 10 minutes, without all the hardwork!
✅Cook with freshly packaged ingredients at home, without preservatives and additives!
✅It's like having a personal Malaysian chef cooking your favorite bowl of Nyonya Laksa!
FAQ
Where do I pick-up?
Mean Noodles. Shop 4, 148 Wing Lok Street, Sheung Wan, Hong Kong. (Entrance on New Market Street)
What payment do you take?
We are currently accepting Cash only.
How is it packaged?
It's frozen, so buy some now, and eat it later!
How do I store the packets?
Put the soup and noodle packets in the freezer, and sauces in the fridge until ready to consume.
How big are the portions?
Each order is a personal size portion (130g of noodles). You can cook 4 packs together to make it a family meal!
What's inside the package?
Egg noodles, fish cake, slow cooked chicken, Malaysian fish balls, and our very special secret Nyonya Laksa soup base. Add additional vegetables, shrimp and eggs to make it fancy!
Is your Laksa spicy?
One a scale of 1-10, it's probably like a level 4 spicy. We include extra sambal for those that want to kick it up a notch!
What is the shelf life?
We recommend consuming it within a month, as it's made with fresh ingredients and no preservatives.