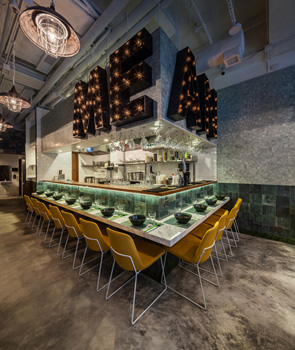 Hot and humid — this is what people say about Hong Kong's summer, and what you need for this summer is of course a nice bowl of noodle soup. And for this reason, Mean Noodles, a contemporary Southeast Asian Noodle Bar, launches this summer and is here to save your day.
Hidden in plain sight, it is not hard to find Mean Noodles once you enter the alley from New Market Street in Sheung Wan. Run by Chef and Cofounder, Kevin Lim, he has been enthusiastic about the strong and intense flavors that can be found in Southeast Asian cuisine. Not only did he spend much of his time in Malaysia, but he also knows all the secrets and techniques to recreate all the iconic staple dishes from his hometown. This time in Hong Kong, Chef Kevin Lim wishes to bring the most authentic yet simple tastes from streets of Southeast Asia.
About Mean Noodles' Chef and Cofounder — Kevin Lim
After earning his culinary degree from Le Cordon Bleu (Boston), Chef Kevin worked closely with Chef Ming Tsai of Blue Ginger in Wellesley, Massachusetts and learned the ways to combine different flavors from all over Asia. With a newly inspired culinary style using exotic ingredients and
artful presentation, Chef Kevin sets up another stage for his interpretation of modern Southeast Asian cuisine. Subsequent to his return to Hong Kong, Chef Kevin further develops his culinary skills by taking private dinner bookings, creating a fusion between a variety of Southeast Asian flavors
and techniques used in the traditional kitchen.
Interior Design
Designed by Cofounder Kevin Lim and Design Director Caroline Chou; As architects and partners of openUU, an award-winning interdisciplinary design studio, they took their cue for the interior of Mean Noodles from Malaysian Batik, drawing upon the carefully crafted lines and floral patterns on the vibrant fabrics and fuse the design into every corner to make Mean Noodles a place where traditional Southeast Asian food meets contemporary style.